Schedule An Appointment | Longmont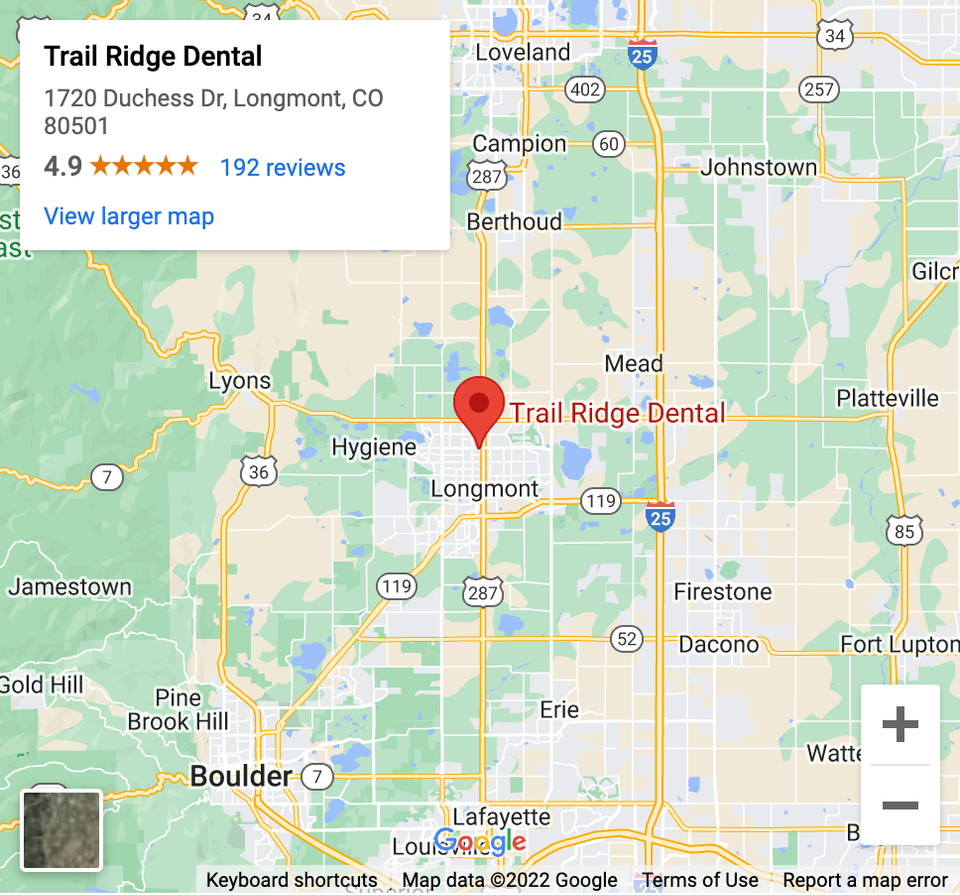 HOW DO I SCHEDULE AN APPOINTMENT?
Please call us at 303-772-6960 to schedule your dental appointment at our Longmont, CO office.


DO I NEED TO SHOW UP EARLY?
We ask that you come about 10 minutes early, if your paperwork is not already filled out. However, you may print of your paperwork ahead of time and fill it out at home. If you have already filled out your paperwork, you may arrive at the time the appointment is scheduled for. In this case, you do not need to show up early.


WHAT WILL HAPPEN DURING MY APPOINTMENT?
A trip to the dentist consists of a regular exam, cleaning, and x-rays to diagnose potential problems in their earliest stages.


HOW LONG WILL MY APPOINTMENT TAKE?
If you are a new patient, the appointment will take about an hour and a half. We schedule new patients for a comprehensive exam, full mouth x-rays, and cleaning. If you are a returning patient, the appointment will take about an hour.


WHAT IF I NEED ADDITIONAL WORK?
We try as much as possible to do same day service to save them a trip. However it all depends on our schedule.

Let me know if you can think of anything else patients typically want to know.


WHAT KIND OF INSURANCE DO YOU ACCEPT?
We also take all insurance plans that allow you to go to any provider. Please contact our office to inquire about further insurances that we accept. As a courtesy to you, we will gladly bill your insurance.


WHAT IF I DON'T HAVE DENTAL INSURANCE?
We have a great in-house membership plan that includes great discounts on your two semi-annual cleanings. Your semi-annual exams and x-rays are also included in this membership plan. In addition, you will receive discounts on other services that we provide.


WHAT FORMS OF PAYMENT DO YOU ACCEPT?
As forms of payment, we accept cash, check, MasterCard, Visa, Discover, and American Express. We have also partnered with CareCredit to provide low- and no-interest payment plans that are designed to fit your needs and your budget. You can apply for CareCredit either at our office or at the CareCredit website.


WHAT IF I NEED TO CANCEL MY APPOINTMENT?
Should you need to reschedule or cancel your appointment with our dentist, we ask that you give us notice at least 24 hours in advance to avoid any fees. We understand that emergencies happen and will do our best to accommodate your needs. For more information on our cancellation policy or your financial options at our office, we invite you to contact us today. We will gladly take the time to answer your questions and make you feel comfortable about financing your dental care.


HOW DO I GET TO THE OFFICE?
Thank you for visiting Trail Ridge Dental online. Since 1994, Dr. Sean Visger and our exceptional dental team have provided families in Longmont, Boulder, Frederick, Firestone, Berthoud, Erie, Johnstown, and the surrounding areas in Colorado with high-quality general and cosmetic dentistry. Whether you're looking to improve your smile with Invisalign or your children need preventive sealants placed, we can provide your whole family with the care you need. Please contact us today to schedule your next appointment with Dr. Visger. With a comfortable atmosphere and caring team, we know that you'll feel right at home here.